FCC Amateur Radio TECHNICIAN License Class
Quick Links
Let me begin by saying right off that the FCC Amateur Radio Service is not a give-me. To earn the Technician License, as well as the General License and the Amateur Extra license one must study and pass an exam. I am saying this because some have believed that all they needed to do was take the exam without any study. These guys usually fail the exam. There are those who have had a lifetime in electronics and radio and they usually pass the exams with minimal study. With a little study everyone can pass the Technician exam. I am not trying to scare you because many school children regularly pass the Technician exam. What I am saying is you need to study to pass the exam.

Obtaining an FCC Amateur Radio Service license is a worthy goal and also a great accomplishment. Being able to communicate, around the neighborhood or around the world, on the radio is a lot of fun. Some people need a Technician License for emergency preparation and actual emergency communication. Some people use the Amateur Radio Service for personal sporting or camping events. Many students use the Amateur Radio Service to communicate with astronauts aboard the International Space Station (ISS). Don't forget using radio for controlling model craft, talking through satellites, school science fairs, or just speaking to a friend. There are many more reasons to use Amateur Radio Service.

Set aside a little time each day for some un-obstructed study. Depending on your reading skills it could take a month or two to read the manual from cover to cover. While reading the manual be sure to watch the accompanying David Casler Youtube videos. Don't be afraid to reference other study materials. All the answers to the FCC exam are in the back of the ARRL manual.

Don't get discouraged. Soon things will begin to fall in-place as you pickup the new lingo. You will be surprised at the new things you learn. Remember that many school children who study do pass the Technician exam. Some even eventually pass all three FCC exams.

Most new HAMs are self taught. We are here to help. There are many other sources for assistance. If you don't study with us please study with someone and obtain an FCC Amateur Radio Service license.
HamTestOnline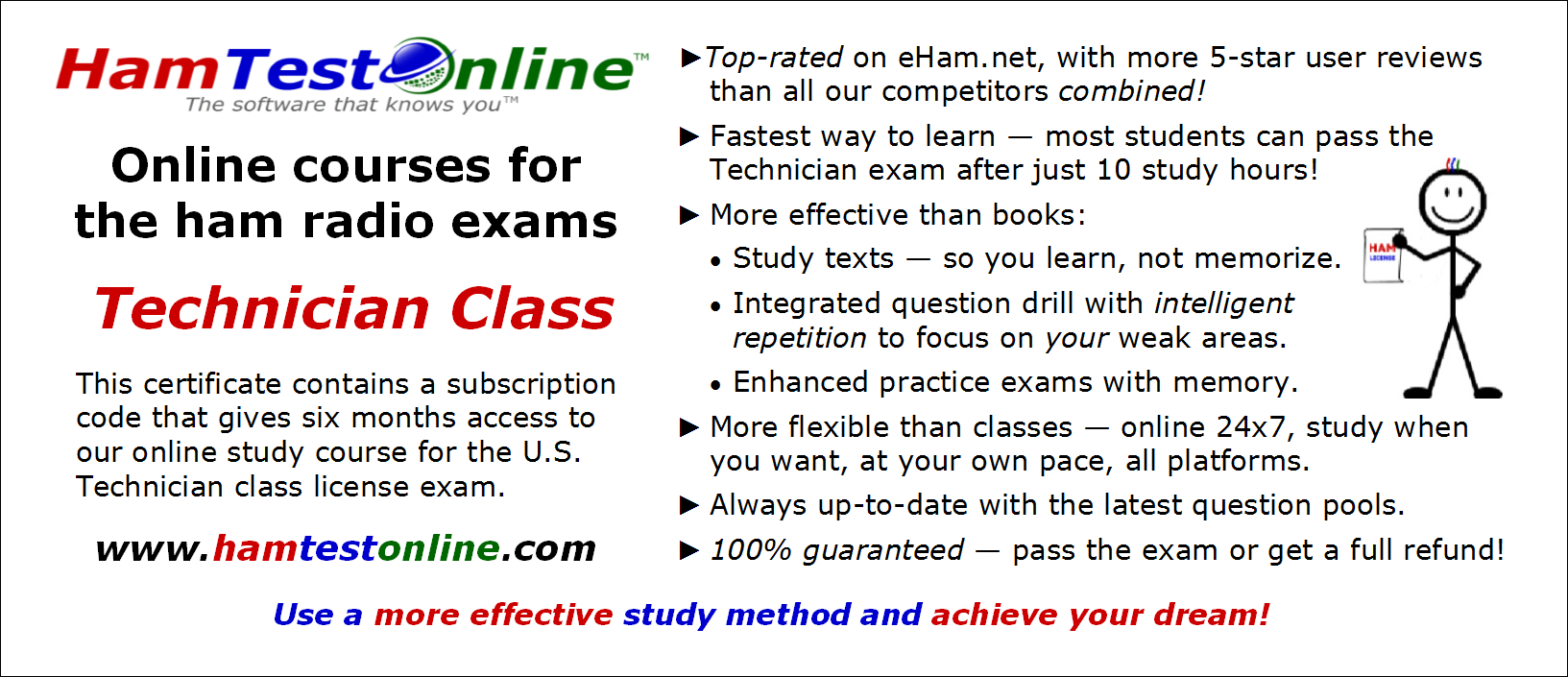 HamTestOnline - Technician License Class

If you are not into self study there are several Technician classes around online and you are welcome to use them. The ARRL recommends the HamTestOnline Technician Class from the ARRL for those who want to study online. You may also shop directly from the HamTestOnline web site for the Technician Class from HamTestOnline.com.


David Casler, KE0OG

There are several online classes for the FCC Technician Class license. One of these is David Casler, KE0OG, who has a Youtube video for each chapter in The ARRL Ham Radio (Technician Class) License Manual, fourth edition, for 2018 through 2022. Mr. Casler describes an introduction to the Technician class in his Youtube presentation titled: How to Get Your Ham Radio Tech License. Mr. Casler's complete 37 Youtube videos can be found here. If you are using a browser other than Internet Explorer Mr. Casler has a detailed web site. You can start at my ham radio home where he describes amateur (HAM) radio. At another web site he describes the three levels of amateur radio licenses with their differences in examination difficulty and their different privileges. Since Mr. Casler is routinely updating his Youtube videos you might find it better to locate them through his web site. For the Technician Class ham license go to on-line help for your self study for assistance. Just a little way down this web site are links to all of his technician Youtube videos.
(Remember that dcasler.com does not operate properly with Microsoft Internet Explorer.)


Gordon West, WB6NOA

Gordon West, WB6NOA, offers in-person classroom license training for all classes of FCC amateur radio. Mr. West offers in-person class around the country. You may locate these classes around the country here. Mr. West also trains HAMs around the country to be instructors.


ARRL Manual



Technician Training
The first thing you need to do is get the ARRL Ham Radio License Manual. Then you get the errata information and post it in your manual. To get the errata information, first go to the ARRL here. Then click on the link marked "Click here."

The link the ARRL here contains links on the left to the ARRL reference to each chapter in the ARRL HAM Radio License Manual.

In 2003 the ARRL and King Schools produced a video course on DVD titled ARRL Technician Class Video Course For HAM Radio Licensing. These videos are way out of date but they contain valuable information. Some information in the DVDs are not related to current questions in the NCVEC Technician question pool. But, that information is very valuable HAM information. The information in these videos fly by very rapidly. So feel free to re-watch these videos until you catch the information. You can view these videos here. If these videos are too fast for you then watch the David Casler videos outlined above.
(Remember that dcasler.com does not operate properly with Microsoft Internet Explorer.)

If you are still not into self study remember there are several Technician classes around online and you are welcome to use them. The ARRL recommends the HamTestOnline Technician Class from the ARRL for those who want to study online. You may also shop directly from the HamTestOnline web site for the Technician Class from HamTestOnline.com.


Exam Review
Before you take the official FCC exam I suggest that you take plenty of online practice exams. Some of these exams are free and some require a small payment. These will prepare you for the FCC exam.

Most online FCC practice exam sites require you to create an account with them. That allows them to keep track of your answers. That way you can get a different set of questions for each practice exam you take. Also they can keep track of any questions you are having trouble answering correctly and re-ask those problem questions.

Those online FCC practice exams sites that charge a fee usually do more than inform you whether you answered a question correctly or not. These sites usually include online teaching to help you understand why you answered a question incorrectly.


ARRL Exam Review
After you go to ARRL Exam Review and create a login you will see the start page.
Go here and begin taking the Technician practice exams.



Ask For Help
Never be afraid to ask for help. I rarely have all the answers but I do have a lot of HAMs out there that I can ask for help. Please email your questions to education@k5qhd.org and I will get back with you.

At some point you will need an FRN. Read on for information about obtaining your FRN.


FCC Registration Number - FRN

Before you take your official exam you will need an FCC Registration Number called an FRN. To get from here to there is a long path. You can start at the FCC. Then next stop is Wireless Communications. Then we pass through the Universal Licensing System or ULS. Finally we enter the COmmission REgistration System or CORES for the FCC.

What you can do is just go to the FCC Registration web site. Then click on the orange colored button marked REGISTER. That will take you to the Registration Type web page. Here you select that you are registering as an Individual and click on the button marked CONTINUE. On the FRN Registration Page you enter the required information. When complete you write down your password for later. Then press the button marked SUBMIT.

AT SOME POINT YOU WILL BE ASKED TO ENTER AN EMAIL ADDRESS. BE SURE TO WRITE DOWN YOUR EMAIL ADDRESS FOR LATER.

AT SOME POINT YOU WILL RECEIVE YOUR FRN. BE SURE TO WRITE DOWN YOUR FRN.


Return to CORES

At some point you may need to return to CORES. When you need to go back to CORES just select CORES. And select the line Create, update and associate FRN(s). Or simply go to https://apps.fcc.gov/cores/userLogin.do. Under Username Login enter your email address and your password.


FCC Exam Sessions
You should be ready to test after you are making passing scores on the online practice exams. Since the exam consist of only 35 random questions out of a pool of over 300 questions, I recommend that you make a passing score on many online practice exams. That will insure you have received a fair sampling of the random questions. Then you need to locate a testing location.

When you are ready to test, you can locate an exam session by going to the ARRL web site: find an amateur radio license exam session. At this web site, just go to the drop down box labeled "ARRL Section:" and select "North Texas". If you don't see any classes don't be discouraged. Go to the ARRL North Texas web site and email clubs and ask if they know of any exams.



Ham Study
You can also go to Ham Study and look at their chart of upcoming test sessions.
Exam Tools
If you are having browser troubles going to Ham Study you can try going to Exam Tools and on the right is a link to HamStudy.

WB9ZPH ARRL Volunteer Examiner Team
But, I really think the first place you should try is Garland's own VE (volunteer examiner) team WB9ZPH ARRL Volunteer Examiner Team - Garland (Texas) Area. They offer both in-person test sessions and online test sessions. Go to their web site for more information or contact their lead Janet Crenshaw, WB9ZPH via email at wb9zph@gmail.com or use (972) 302-9992 for voice or text messages.
There any many places in the Dallas - Fort Worth metroplex providing exams. Actually there are many places in North Texas providing exams. Each week in North Texas, except around the holidays, you will notice one or two places to test.
DURING THE COVID-19 ISOLATION THERE ARE STILL PLACES TO TEST AS WELL AS ONLINE EXAM SESSIONS.

FCC Exam Passed
Now that you have passed your FCC Technician exam what do you do next. Here are some examples.
The first item in the first list is "Join a club." Since this web site is provided courtesy of the Garland Amateur Radio Club may I suggest that you join GARC. Below is the sign up sheet for GARC. Just print the form, fill it in, and snail mail it to GARC Treasurer, 1027B Austin Street, Garland Texas, 75040. The GARC web site is at http://www.k5qhd.org

There are many fine clubs in in the Dallas - Fort Worth Metroplex. It is nice to be able to communicate with others with your same interest.

The second item in the first list is "Join the ARRL." The American Radio Relay League (ARRL) is our representative in Washington DC. They fight with the FCC and congress to preserve our radio bands. The ARRL is also our representative to the International Telecommunication Union (ITU). Again, they fight to preserve our radio bands. Also, the ARRL publishes many fine publications which include QST and many books. The ARRL membership web site is at http://www.arrl.org/membership-levels

The third item in the first list is "Find an Elmer." An "Elmer" is an experienced HAM who has interests similar to yours. He/she can assist you along the way to become experienced too. One way to find an Elmer is by joining a club or joining a group like the ARRL North Texas Section. Joining the North Texas Section will open up a whole new world in communications and emergency opportunities. The ARRL North Texas web site is at https://www.arrlntx.org/

Time To Purchase A Radio
Now you need a transceiver to communicate with other HAMs. There are many kinds of transceivers and a wide price range. You can buy anything from a handheld, through mobile, up to full size transceiver. There are many places online to purchase amateur radio equipment. Also, there are two places in North Texas to purchase amateur radio equipment. One is Ham Radio Outlet in Plano, Texas. The other is Main Trading Company in Paris, Texas.
Ham Radio Outlet in Plano Texas

The health and safety of our customers, employees, and associates are our top priority and we're committed to doing our part to help keep everyone safe.

SHIPPING: There is no change to the processing of our phone and online orders for shipping. Orders are processing on our regular schedule at this time, however, items may be delayed in-shipment. Please be patient. As our shipping carriers inform us of any changes we will post them here.

CURB SIDE PICKUP: We encourage curb-side pickup! You can place your order online and select 'Will-Call' or call in an order to your local store. When you arrive at the facility, one of our staff will bring out the product to your vehicle. Our staff will wear a mask and other appropriate protective gear during deliveries. We ask you to do the same. We recommend you CALL the local store before you arrive to verify your order will be ready!

Main Trading Company in Paris Texas

We are Main Trading Company. We are a real brick and mortar retail store located at 2707 Lamar Ave in Paris Texas (about a hundred miles North East of Dallas). We are Christine and Richard Lenoir.

Our retail store is normally open Mon thru Friday 9:00 AM to 6:00 PM and Saturday 9:00 to 1:00. We are sometimes out of town doing a hamfest or electronic show on Fridays or Saturdays, If you are planning a drive in be sure and call first.
---
More From The ARRL
The Garland Amateur Radio Club is an ARRL Special Services club. Along with federal and international support the ARRL provides many services. These services include visibility on social media, pod cast, books, magazines, awards, emergency services support and more.
ARRL Social Services
---
Additional Information
---
I know there is much more so please email any question you may have to education@k5qhd.org.
John Abbott, KF5FWK, Garland Amateur Radio Club, Education Director
Kathleen Abbott, KF5UEI, Proof Reader